WM Issuer Service
This service provides issuers with valuation prices of their own issues, on a daily basis.

These are based on the year-end price calculation method and comprise stock exchange prices, issuer prices, fund prices, and calculated bond prices determined by WM in cooperation with Moosmüller & Knauf. This module allows issuers to view the calculated bond prices of unlisted issues, and to confirm or to replace these by issuer prices.

Our objective is to support issuers in meeting market demand for information, data and documents on new issues. Issuers can expedite the allocation of WKNs and ISINs via WKN-Online web applications.

In addition, we facilitate the direct transmission of new issue data relevant to WKN/ISIN allocation, and ensure that the information is processed directly and properly. New issues can thus be handled on a high volume basis and in a timely manner, being available to the market visually in WM-DatenOnline on the same day and as a feed via WMS/FOF.

For further information, please write to us or call +49 (0) 69 2732 - 471.

Your access to valuation prices.

HelpDesk
Your WM hotline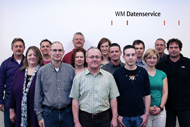 On business days
(Mon. - Fri.) between
8 a.m. and 9 p.m.

Tel.: +49 (0) 69 2732 - 480,
Fax: +49 (0) 69 2732 - 7480
E-mail